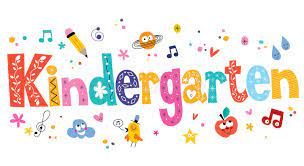 The beginning of school is an important event in the life of a child.  A good beginning helps assure continued progress and further happiness.
The kindergarten program has been planned to stimulate the total growth of the child: physically, socially, emotionally, and academically.
Each child is unique, and we will do everything we can to see that your child experiences self-fulfillment and builds a positive self-concept.
Mutual understanding and confidence between the home and school are essential to the happiness and academic growth of the kindergarten child.
Kindergarten Registration Checklist
Supply List
24 – pencils – #2
  8 – .77 oz. Elmer's glue stick (big glue sticks)
  1 – Blunt 5" Fiskars scissors
  9 – 24 ct. Crayola crayons
  1 – 160 ct. Kleenex
  1 – 2"Avery View Binder, white
  1 – 1" Avery View Binder, black
  Please only write name on binders
  4 – 2 pocket folders
  1 – Hard Plastic 9×5  supply box
  1 – Small pink bevel eraser
  1-4 pack Skinny/Thin Expo dry erase markers
  1 – Crayola watercolor 8 count paint set
  1–  Headphones (no ear buds please)
  1 – Crayola colored pencil set of 12      
 1 – gallon Ziploc baggies (girls)
 1 – quart size Ziploc baggies (boys)