Our Vision Statement
Students act with respect, confidence, empathy and integrity to seek meaningful learning and achieve their highest potential. 
Our Mission Statement
A comprehensive school counseling program at Colfax-Mingo Elementary will equip students with the necessary skills, knowledge, and abilities needed to succeed in their future goals and aspirations. Our program will work in collaboration with parents, staff, and the community to lead, educate, and model for our students. In order to provide the best possible services for every student, we will foster meaningful relationships, utilize a multi-tiered system of support, and implement data-driven interventions.  
---
Our Department
Our department is made up of five school counselors. We continually collaborate with each other to ensure that we are providing the best possible education for our students. Contact information for our counselors can be found at the bottom of this page. We have a strong desire for all of our students to succeed in their aspirations past graduation. In order to succeed, we must thoroughly prepare our students academically, socially/emotionally, and in their college and career choices. We have a passion for seeing students achieve, grow, and learn. We believe that the abilities, skills, and knowledge we provide for all students is necessary for them to be successful and impactful members of the community. 
What Services Do We Provide?
Classroom counseling lessons at the elementary level which cover interpersonal and intrapersonal skills, as well as career exploration opportunities. 

Advisory lessons at the secondary level which cover interpersonal skills, intrapersonal skills, career exploration, and post-secondary guidance. 

Small groups are used to help refine knowledge, skills, and abilities that will enable students to succeed academically, socially/emotionally, and in their college and career choice. Small groups may include topics such as friendship skills, self-regulation, stress management, conflict resolution, cooperation, academic success, and more.

Short-term individual planning and counseling may be used when a student is in need of some extra assistance in navigating their academic, social/emotional, or college and career goals. It is important to note that we as school counselors are not mental health therapists, meaning we cannot ethically provide a higher level of assistance/treatment for more intensive mental health needs. In these situations, we refer students and parents to outside resources. A good analogy for our work is that we as school counselors are often a "first-aid kit." We have tools that help us find quick solutions that can alleviate minor life conflicts. For a deeper and more thorough solution, one would need a "doctor's office" or "hospital," which would represent the wide variety of outside resources we refer families to.

Bree Skow, Rachel Van Zante, and Amber Joyce are the 504 coordinators for the elementary and secondary levels, respectively. They collaborate with parents, staff, and area experts to create accommodations for students who have a "physical or mental impairment which substantially limits one or more major life activities" (Americans with Disabilities Act-ADA). 
---
Elementary Counseling
Bree Skow
Elementary Counselor, Available Monday–Friday from 7:40am – 3:40pm
Bree Skow graduated from Iowa State University with her Bachelor of Science in psychology with a minor in child, adult, and family studies. She then attended Drake University and received her master's degree in school counseling. She has been a member of the Iowa School Counselor Association (ISCA) since 2017 and a member of the American School Counselor Association (ASCA) since 2019. She has a passion for helping students succeed and loves to see them learn and grow! In her free time, she enjoys rock climbing, watching the Dallas Cowboys, and spending time with her husband and dog.
Gabrielle Hoffman
Part-time Elementary Counselor, Available Tuesdays, Thursdays, and every other Wednesday
TBD
Kristjana Smith
Elementary Counselor, Available Monday–Friday from 7:40am – 3:40pm
TBD

---
Secondary Counseling
Amber Joyce
7-12 Counselor (primarily 10th-12th), Available Monday–Friday from 7:45am – 3:45pm  
Amber Joyce graduated from Iowa State University with her Bachelor's of Science in Psychology with a minor in Biology. She then attended the University of Iowa and received her Master's degree in School Counseling. She has been a member of ISCA and ASCA for four years. Her passion is helping students grow into savvy adults and takes pride in her ability to support students of all ages and backgrounds. In her free time, she enjoys spending time with her dog, watching ISU sports, playing and coaching volleyball, traveling, and cooking.
Rachel Van Zante
7-12 Counselor (primarily 7th-9th), Available Monday–Friday from 7:45am – 3:45pm
Rachel Van Zante graduated from Iowa State University with a degree in secondary English education. She worked as an English teacher at Indianola CSD while receiving her master's degree in secondary school counseling from Drake University. She has been an ASCA/ISCA member since 2018. She loves building relationships with students and getting to know them on a deeper level. Rachel and her husband have two young boys and she spends her free time chasing them around on walks, at the campground, and attending Iowa Hawkeye football games with her family. She also coaches volleyball and loves to garden and cook, and reads when she can.

Go to our 7-12 Counseling Page
---
Additional Resources
Iowa Department of Education: Anti-Bullying/Anti-Harassment
Primary Contacts
Breanna Skow
Counselor
Elementary School
515-674-3465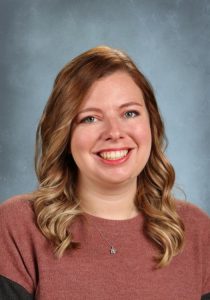 Amber Joyce
Counselor, JH Head Volleyball Coach, JH Assistant Baseball Coach
Jr./Sr. High
515-674-4111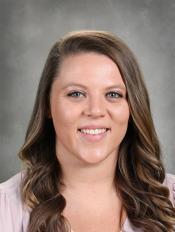 More School Counseling Contacts
| Title | Name | Phone |
| --- | --- | --- |
| SIS Specialist~Administrative Support | Missy Daft | 515-674-3328 |