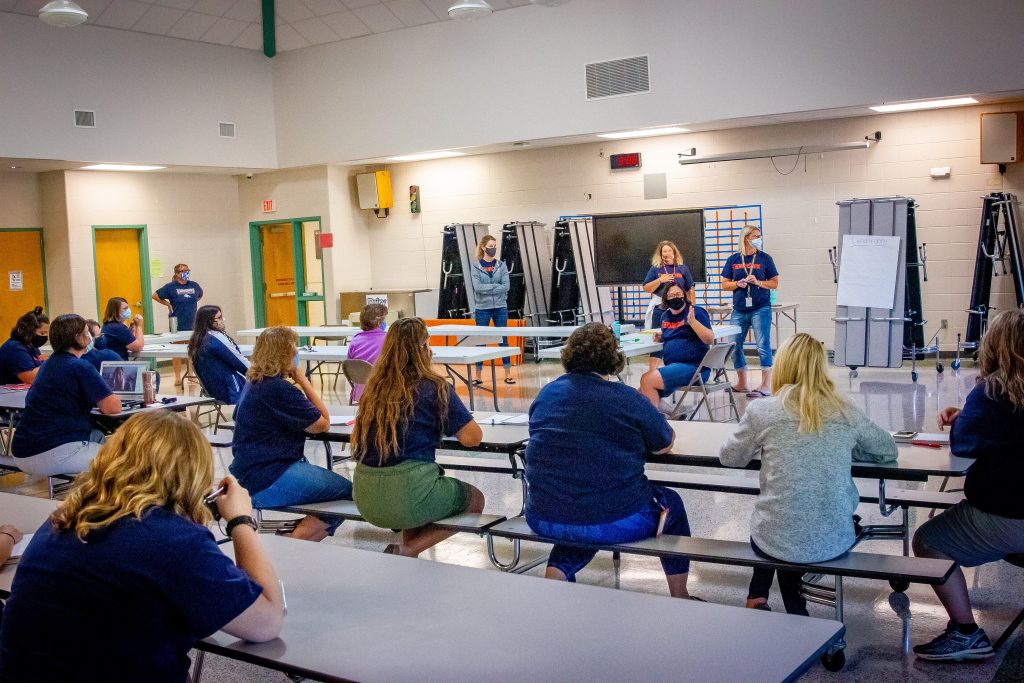 ---
2Current Openings – Updated 12/5/2022
Elementary Para Associate Positions Available
Two 6.5 hour positions available 32.5 hours per week
One 4 hour Para Associate position available 20 hours per week
If interested, please contact Brian Summy, Elementary Principal, at 515-674-3465 or Email:  bsummy@colfaxmingo.org 
EOE/AA
Jr/Sr High School Para Associate Positions Available
Two 6.5 hour positions available 32.5 hours per week
If interested, please contact Alex Lancaster, Principal, at 515-674-4111 or Email:  alancaster@colfaxmingo.org
EOE/AA
Staff Positions
Substitute Teachers
We're always needing substitute teachers. Please contact Tim Salmon, Superintendent, at (515) 674-3646 for more information.
Coaching
The following coaching opportunities are currently available. Please contact Erin Hume, Athletic Director, at ehume@colfaxmingo.org for more information.
Head High School Girls Basketball Coach
Head High School Softball Coach
Jr High Softball Coach
Assistant High School Cross Country Coach
Head Junior High Girls Wrestling Coach (Split Season-January-March)
High School Drama Coach
Assistant High School Speech Sponsor
Nutrition
Substitute Nutrition positions available
Please submit a letter of interest with qualifications and resume' to Kerri Roling at kroling@colfaxmingo.org      Telephone:  515-674-4312
Maintenance & Custodial Positions
Supervisor of Operations and Maintenance
Colfax-Mingo is currently accepting applications for Supervisor of Operations and Maintenance.  Postiiton will begin January 1, 2023.
Position is responsible for the coordination of custodial, maintenance, and grounds operations of the ditrict in order to maintain the optimum usage of school facilities and equipment for the educational programs of the District.
Preparation, Experience & Skills:
Experience & training in HVAC, plumbing, and electrical work required.
Ability to read blueprints, operating instructions and use computer software/hardware to coordinate electronic information and reports.
Demonstrates aptitude of mechanical, electrical and building maintenance skills.
Demonstrates aptitude of electronic energy management & electronic secruity systems management.
Possesses the skills to successfully manage and direct staff.
Possesses the aptitude to oversee construction and remodeling projects.
Possesses a demonstrated aptitude for successful completion of responsibilities assigned.
Principal Duties:
Works cooperatively with the Principals, Athletic Director and other staff who direct or who are responsible for programs using the facilities of the Colfax Mingo School District.
Submits recommendations to the Superintendnet about the budget, purchasing, staff and future needs.
Maintains and repairs machines & mechanical equipment.
Perform routine preventative maintenance to ensure systems continue to run smoothly.
Maintains the exterior of the buildings and grounds in a state of cleanliness and working order on all district grounds.
Develops maintenance schedules for all assigned staff.
Directs the work activities of the maintenance and custodial staff.
Recruits, screens & recommends for hiring or termination and trains all personnel under his/her supervision.
Evaluates the performance of the maintenance staff regularly.
Coordinates vacation schedules for maintenance personnel.
Conducts periodic heakth, fire and safety inspections for buildings & grounds; corrects conditions as needed.
Recommends that the necessary equipment and supplies are purchased.
Places orders for equipment, repair parts & grounds keeping supplies and equipment.
Prepares and administers the budget projections for maintenance, grounds and custodial supplies & equipment.
Conducts a continuing program of staff training and personnel development
Organizes and maintains a computerized program to schedule preventative maintenance throughtout the District.
Manage outside vendors throughout the District
Foster an attitude of pride in the staff's work and in the appearance of the grounds and facilities.
Advises the Superintendent of all serious problems relating to areas within his/her responsibility.
Manages and maintains the contracted services in providing security to the facilities and District personnel.
Works closely with Athletic Director and all coaches concerning maintaining and upgrading of all athletic venues.
Keeps informed of the latest trends, developments and products in the areas of maintenance, repair and upkeep; encourages innovation and experimentation as appropriate.
Reviews contract, blueprints and specification bids for all construction projects.
On-call 24 hours per day by administrative staff and police department for emergencies.
Specific responsibilities and duties of the position are subject to change by the Superintendent.
Physical Demands:  (The physical demands described here are representative of those that must be met by an employee to successfully perform the essential functions of this job.  Reasonaable accommodations may be made to enable individuals with disabilities to perform the essential functions.)
White performing the duties of this job, the employee is regularly required to sit, stand, speak, hear, see and walk to carry out routine duties.  Must be able to bend arms, torso and neck.  Must be able to occasionally lift, move, or push items of 50 lbs; such as assisting children, or moving/rearranging furniture. Specific vision requirements include close vision, distance vision, color vision, peripheral vision, depth perception and ability to adjust focus.  Must be able to supervise students in all types of weather, meet multiple demands from several people and interact with the public and other staff.
Work Environment:  (The work environment characteristics described here are representative of those an employee encounters while performing the essential functions of this job.  Reasonable accommodations may be made ot enable indivuduals with disabilities to perform the essential fundtions.)
Noise level is quiet to loud.  Work may be indoors and/or outdoors.  work may be in non-air conditioned rooms.  Tobacco and alcohol-free environment.  Fast-paced atmosphere with constant contact with studnets, staff, or the the public.  May include evenings.  Direct responsibility for the safety, well-being and work output of students.
Terms of Employment:  12 month year.  Salary as recommended by the Superintendent within Board established range.  Includes Family Health and Dental Insurance as a component of a comprehensive benefits package.
Contact Superintendent Tim Salmon, 1000 North Walnut, Colfax, IA  50054   Telephone:  515-674-3646  Email:  tsalmon@colfaxmingo.org
Substitute Custodian position available
Please submit a letter of interest with qualifications and resume' to Monty Beals at mbeals@colfaxmingo.org      Telephone:  515-674-3646
Bus Drivers
Colfax-Mingo District is leased to Durham Bus Services.
Substitute Drivers are always needed.  If interested, please contact:
Apply Online
Paperwork
All paperwork must be turned in together, and a background check is required for all applicants.
---
General Inquiries
Please contact Erik Anderson, Superintendent, for general inquiries.
1000 North Walnut
Colfax, IA  50054
(515) 674-3646
Primary Contacts
Tim Salmon
Superintendent
District Office
515-674-3646