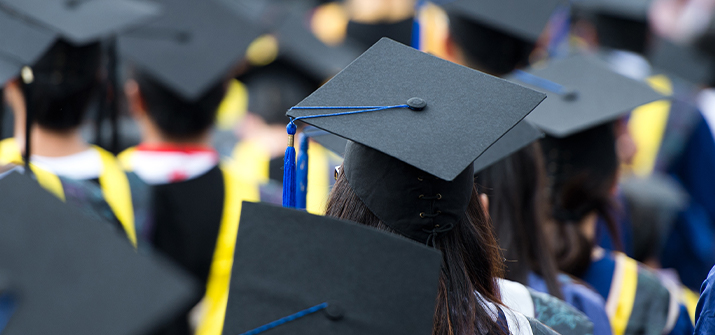 As a senior, there is a lot to think about during your final year of high school. At the top of that list should be how you are going to pay for college. One of the best ways to do that is by applying for scholarships.
As scholarships become available throughout the year, they will be listed here with due dates and a short summary of their requirements. This list of scholarships is mostly local scholarships so take the time to research other scholarships available through your college of interest and national scholarships.
---
Helpful tips to get you started
Start researching scholarships the summer before your senior year.
You most likely will not be able to apply for them at this time but you can create a list with each scholarship you are interested in applying for with the release date of the application, due date, and the website. If you wait until spring, you will miss out on many scholarships.
Most college scholarship deadlines are in the fall.
Be sure when you visit colleges to ask when their scholarship applications are due. You can also find this on their school website.
Write down all sports, activities, and community service.
Write down all sports, activities, and community service you have done including the number of years you have participated in each. Having this list compiled ahead of time helps make applying for the scholarships go quicker.
You will need letters of recommendation for some scholarships.
Start asking for these as soon as possible. Teachers and coaches are busy and need time to write them. It also helps to give them a description of what specific information the scholarship is asking for.
Not sure if you qualify? Apply anyway.
It never hurts to apply for the scholarship and you could be the one that the scholarship committee picks.
Many students avoid scholarships with essays.
This makes your chances better at receiving them because fewer people apply. Keep a copy of your essay so that you can use it when writing others. A lot of essays questions are similar on scholarship applications.
Get started with ICAN's Scholarship Database 
Click Here
Scholarships & Grants
Name & Link
Details (eligibility guidelines, qualifications)
Daughters of the American Revolution
Daughters of the American Revolution are now accepting applications for a list of scholarship opportunities.  Each scholarship opportunity has its own individual criteria and may require specific documents to be uploaded into your application.  The scholarships opportunities range from nursing, medicine, occupational or physical therapy, law, business administration, English, science, math, chemistry, music (voice and piano), history, government, American Studies, horticulture, and elementary and secondary education.  Applicants must plan on attending an accredited technical school, college, or university.  See the website below for more information on specific scholarships.
Porch Skilled Trade & Technology Scholarships
Porch will award a $2,000 scholarship four times a year to eligible students.  The Winter scholarship is now being offered, which runs from January 16, 2021-April 16, 2021.  Eligibility requirements are:

You must be 18 years or over and currently be enrolled as a high school senior, or in a community college, undergraduate, graduate, technical college, or vocational program, or be planning to enroll in a high school, community college, undergraduate, graduate, technical college, or vocational program during the 2021-2022 academic program in the United States.
You must have a minimum of a 3.4 GPA
You must be pursuing a degree that enables you or others in your community to learn a new trade, develop skills and technology, or start a small business related to home services offered by Porch.

Iowa State University Scholarships
Iowa State University uses OneApp for most of their scholarship opportunities.  Deadlines vary depending upon the scholarship, so ISU encourages students to log in to OneApp early and often to ensure deadlines are met.
Iowa Tuition Grant

Iowa Resident
Undergraduate enrollment
Enrolled at an eligible Iowa private college or university
FAFSA submitted by July 1
Have an eligible Expected Family Contribution (EFC) on the FAFSA
Can reapply annually

Kibbie Grant (Iowa Skilled Workforce Shortage Tuition Grant)

Iowa Resident
Enrolled in at least 3 credit hours in a qualified program of study (of at least 15 weeks duration)
Enrolled at an Iowa community college
Must demonstrate financial need
Could cover up to two years of education
Must complete FAFSA

Iowa Vocational-Technical Tuition Grant

Iowa Resident
Enrolled in at least 3 credit hours in a qualified program of study (of at least a 15-week duration)
Enrolled at an Iowa community college
Must demonstrate financial need
Must complete FAFSA

Future Ready Iowa Last-Dollar Scholarship

New HS grads who enroll in a qualified program of study full-time or enroll in an eligible program part-time along with an approved work-based learning program for the fall immediately following high school graduation, apply for all other available state and federal grants and scholarships and meet ongoing requirements.  Must file the FAFSA

Iowa National Guard Service Scholarship

Iowa Resident
Member of an Iowa Army or Air National Guard unit for each term the member receives benefits
Satisfactorily complete required Guard training
Maintain satisfactory performance of Guard duty
Pursue a certificate or undergraduate degree at an eligible Iowa college or university (students with BA degrees are not eligible to participate even if pursuing a second BA degree) and maintain satisfactory academic progress
Must file the FAFSA and the Iowa Financial Aid Application

All Iowa Opportunity Scholarship

State-funded scholarship program for Iowa students who attend an eligible Iowa college/university
Priority is given for certain eligible individuals (see link)
Must file the FAFSA and the Iowa Financial Aid Application by March 1
Renewable

Governor Terry E. Branstad Iowa State Fair Scholarship

Actively participate in the Iowa State Fair (past or present)
Be a graduating senior from an Iowa high school
Plan to enroll at an Iowa college or university
Selection committee criteria
Must file the FAFSA and the Iowa Financial Aid Application

Hagan Scholarship
The Hagan Scholarship will help pay the unmet financial need of the eligible recipient, up to $6,000 each semester for up to 8 consecutive semesters (Up to $48,000 over four year). Eligibility requirements:

ACT and SAT scores

are not required

Must attend an eligible public high school (Colfax-Mingo is eligible)
FAFSA EFC must not exceed $6,500
Must be a U.S. Citizen
Must have achieved a 3.75 CGPA based on a 4.0 scale
Must be ranked by the school and in the top 20% of the high school graduating class
Must enroll at an eligible four-year college or university the first semester following high school graduation
Must work 240 hours in the twelve months prior to the start of each year of college
Must apply for eligible federal and state grants
Must not have a felony conviction

College Board
College Board ( a reputable scholarship source) will be randomly selecting 200 students to receive a $1,000 scholarship.  Drawings are held October through February.  More details on their site.  The requirements are:

Create an account on their site and fill out the FAFSA

Catherine McAuley Scholarship (Mount Mercy University)
The Catherine McAuley Scholarship provides free tuition to Iowa students whose family income is $50,000 or less annually.  These scholarships are renewable for up to four years and students are automatically considered upon admittance to Mounty Mercy.  To be eligible, students simply need to:

Be an Iowa resident and graduate from an Iowa high school
Be admitted as a new freshmen to Mount Mercy
Reside all four years on Mount Mercy's campus during the academic year
Participate in Mount Mercy's College Success Program during their first year on campus
File the FAFSA prior to July 1 (first year) and May 1 (subsequent years) that shows family income of $50,0000 or less and Pell Grant eligibility

Conservation Districts of Iowa Scholarship
CDI is partnering with local Soil and Water Conservation Districts (SWCD) to foster the higher education endeavors of Iowa students interested in conservation and agriculture by offering scholarships.  Iowa High School Class of 2021 students pursuing programs of study in any field of conservation or agriculture qualifies for the Conservation Scholarship.  While this is a wide field and many studies qualify, preference will be given to students pursuing programs of study in conservation.  Application deadline is Friday, February 12, 2021.
The Mark Pearson FFA Leadership Scholarship
The Mark Pearson FFA Leadership Scholarship pays full-tuition to 15 qualifying Iowa FFA Chapter Presidents who attend DMACC, two from each of Iowa's FFA's six Iowa districts and three at large.  Recipients can enroll in any degree program at any of DMACC's campuses or learning centers.  Application deadline is February 15.  To be eligible, students must:

Have been president of their FFA chapter either junior or senior year of high school
Apply during their senior year of high school
Attend DMACC right out of high school
Have a cumulative GPA of 2.5
Register full time each semester in an approved program of study and maintain a cumulative 2.5 GPA

Jasper County Arts Connection Scholarship
This scholarship is available for students who are planning to pursue a lifelong career, hobby, or interest in the arts.  We are looking for students who have been involved in the arts (choir, band, visual arts, drama…) in high school, and plan to be involved throughout college.  We do ask the students to turn in 5-10 pieces of visual art, or 1-3 recordings (no more than 10 minutes combined).  We do prefer solo recordings, but group performances will also be accepted.  We understand not all students are comfortable doing solo performances, or will be doing solos as adults. Click on the link to the left for the application and instructions. Application deadline is February 17, 2021.
Iowa Financial Know-How Challenge Scholarship
Enter to win one of 30 scholarships of $2,000.  High school seniors should register online with a personal email address.  Registered students will receive an email containing instructions and links to the required elements. To qualify, students will be required to:

Complete two online tools that provide tips and information about paying for college.
Complete a related assessment created by Iowa Student Loan to test each student's understanding of the concepts presented in the online tools.  Scholarships will be presented to the highest scorers on the assessment.
If it is necessary to break a tie, applicants will complete and submit a separate component.
Students must complete these steps by 4:00pm on Friday, February 26, 2021.

Iowa Farm Bureau Scholarship
The Iowa Farm Bureau Federation will award 27 graduating high school seniors from Iowa (three from each of IFBF's nine districts) a $2,500 scholarship, renewable for four years (up to $10,000).  Eligibility requirements:

Scholarships reserved for current IFB members or their children in good standing with the organization
Minimum of 2.5 GPA
Involvement in extra-curricular activities
Accepted into an accredited higher education institution, including community colleges and technical schools
Applications must be postmarked on or before February 26, 2021

Grand Lodge Technical Scholarship
The Grand Lodge of Iowa is offering the "Mark Earl and Esther Ruth Spencer Technical Scholarship".  Scholarships will be awarded to a number of graduating Iowa high school seniors who plan to enroll in a mechanical or trade course of study at an accredited Iowa Community College.  Application must be postmarked no later than March 1, 2021.
Iowa Automobile Dealers Foundation for Education Scholarship
Iowa Automobile Dealers Foundation for Education will award $2,500 scholarships to selected students pursuing automotive related studies (technician training, body shop/collision repair, diesel, new vehicle sales, parts sales, accounting, or business administration).  The application is due back at IADA headquarters by 5 p.m. on March 1, 2021. Iowa Automobile application
First Friday Breakfast Club Scholarship
FFBC awards annual scholarships to outstanding Iowa high school seniors who fight homophobia and educate their schools and/or communities about lesbian, gay, bisexual and transgender (LGBTQ) issues.  Academic excellence, extracurricular activities and community involvement also factor into the awards.  The scholarships are $3,000 each.  Applications must be postmarked by March 15, 2021.  
Advantage Credit Union Scholarship
Advantage Credit Union will be awarding a $1,000 scholarship for the 2021-2022 school year. The scholarship is available to any high school senior who is a member of Advantage Credit Union in good standing, attending a four year college or university, community college or tech/trade school, for the 2021-2022 school year. 

Entries must be received at our office 121 W 3rd St N, Newton, Iowa no later than March 26, 2021.

MercyOne Auxiliary Scholarships
MercyOne Newton Medical Center Auxiliary in Newton, Iowa, offers scholarships for students
interested in pursuing an education in nursing and other health-related careers.

Eligibility: Any student living in Jasper County is eligible to apply. The student must have
documented academic credibility.
Deadline for application is Wednesday March 31, 2021. Applications must be received by
MercyOne Newton Medical Center by this date to be considered for a scholarship.

Colfax Mingo Scholarships
YOU  MUST PARTICIPATE IN THE PHONATHON ON SUNDAY, MARCH 7TH FROM 2:00PM-6PM (AT THE HIGH SCHOOL) TO QUALIFY FOR THESE SCHOLARSHIPS!  By participating in the Phonathon, you automatically get a $500 (amount subject to change) scholarship awarded to you.  The scholarships listed below are optional, but the more you fill out, the better your chances are of being awarded multiple scholarships!  Seniors were emailed the GOOGLE forms for each of these scholarships.  All scholarships are DUE BY APRIL 7, 2021.  All are electronic submissions this year.  If you have an issue, please don't hesitate to email the scholarship committee (address listed in the email you received)

 or speak with Ms. Joyce. 

Corinne Price Osborn Nursing Scholarship Honoring the Order of the Eastern Star
Dr. Michael D. Frier Memorial Scholarship

Colfax Mingo Scholarships – Essay Application

for

Hagarty Family Scholarship
Edwards Memorial Scholarship
Edwards McGill Legacy Scholarship
Eileen P. Gardner Memorial Scholarship

M. Robert McCarey Memorial Scholarship
Ty Carlson Memorial Scholarship
Kevin R. Bissell Memorial Scholarship
Tobin-Coats Scholarship
Dreda Gweneth (Edwards) McGill Legacy Scholarship

Amvets Scholarships (for children or grandchildren of Veterans/Active Duty)

Application due April 30, 2021
Must be a child or grandchild of a veteran or active duty service member, including Guard and Reserve.
Must be a current high school senior
Visit the link for information regarding the necessary forms you will need to apply

Pearl Hull Falk Scholarship
The Pearl Hull Falk Scholarship awards a $5,000 scholarship. Application deadline is May 3, 2021. Eligibility requirements:

of the Protestant faith
resident of the State of Iowa
attending the University of Iowa full-time

PB & J Scholarship
The PB&J scholarship awards $500-$1000 to students who have experienced personal challenges that may not have allowed them to perform well academically (High GPA is not needed to qualify.) Examples of personal challenges are medical issues, peer issues, and family issues.  Application deadline is May 31, 2021. 

Eligibility requirements:

High school senior attending a 2-year or 4-year college in the U.S.
Applicants must submit an application, transcript, and 1 letter of recommendation required (2 preferred)

Charlie Burkart Scholarship (Iowa PGA Section Foundation)
The Iowa PGA Section annually awards a college scholarship in memory of Iowa Golf Hall of Famer, Charlie Burkart, PGA member for 49 years and head professional at the Elmcrest Country Club in Cedar Rapids for 42 years.  The purpose of this scholarship is to assist students in furthering their education.  At least one high school graduate will be the 2021 recipient of $1500 per year for four years.  Deadline of June 18,2021. Scholarship winners are based on:

interest and activity in golf, the potential for future contributions to the game
leadership skills/community involvement
academic/professional ability and financial need.