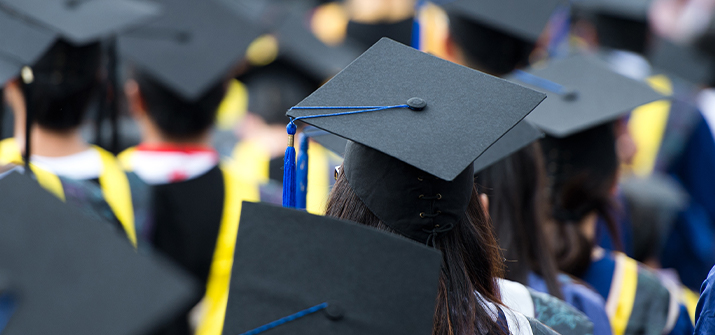 As a senior, there is a lot to think about during your final year of high school. At the top of that list should be how you are going to pay for college. One of the best ways to do that is by applying for scholarships.
As scholarships become available throughout the year, they will be listed here with a short summary of their requirements. This list of scholarships is mostly local scholarships so take the time to research other scholarships available through your college of interest and national scholarships.
---
Helpful tips to get you started
Start researching scholarships the summer before your senior year.
You most likely will not be able to apply for them at this time but you can create a list with each scholarship you are interested in applying for with the release date of the application, due date, and the website. If you wait until spring, you will miss out on many scholarships.
Most college scholarship deadlines are in the fall.
Be sure when you visit colleges to ask when their scholarship applications are due. You can also find this on their school website.
Write down all sports, activities, and community service.
Write down all sports, activities, and community service you have done including the number of years you have participated in each. Having this list compiled ahead of time helps make applying for the scholarships go quicker.
You will need letters of recommendation for some scholarships.
Start asking for these as soon as possible. Teachers and coaches are busy and need time to write them. It also helps to give them a description of what specific information the scholarship is asking for.
Not sure if you qualify? Apply anyway.
It never hurts to apply for the scholarship and you could be the one that the scholarship committee picks.
Many students avoid scholarships with essays.
This makes your chances better at receiving them because fewer people apply. Keep a copy of your essay so that you can use it when writing others. A lot of essays questions are similar on scholarship applications.
Get started with ICAN's Scholarship Database & Searches
Database
Searches
Scholarships & Grants
Name & Link
Details (eligibility guidelines, qualifications)
Porch Skilled Trade & Technology Scholarships
Porch will award a $2,000 scholarship four times a year to eligible students. Eligibility requirements are:

You must be 18 years or over and currently be enrolled as a high school senior, or in a community college, undergraduate, graduate, technical college, or vocational program, or be planning to enroll in a high school, community college, undergraduate, graduate, technical college, or vocational program during the 2021-2022 academic program in the United States.
You must have a minimum of a 3.4 GPA
You must be pursuing a degree that enables you or others in your community to learn a new trade, develop skills and technology, or start a small business related to home services offered by Porch.

Iowa Tuition Grant

Iowa Resident
Undergraduate enrollment
Enrolled at an eligible Iowa private college or university
FAFSA submitted by July 1
Have an eligible Expected Family Contribution (EFC) on the FAFSA
Can reapply annually

Kibbie Grant (Iowa Skilled Workforce Shortage Tuition Grant)

Iowa Resident
Enrolled in at least 3 credit hours in a qualified program of study (of at least 15 weeks duration)
Enrolled at an Iowa community college
Must demonstrate financial need
Could cover up to two years of education
Must complete FAFSA

Iowa Vocational-Technical Tuition Grant

Iowa Resident
Enrolled in at least 3 credit hours in a qualified program of study (of at least a 15-week duration)
Enrolled at an Iowa community college
Must demonstrate financial need
Must complete FAFSA

Future Ready Iowa Last-Dollar Scholarship

New HS grads who enroll in a qualified program of study full-time or enroll in an eligible program part-time along with an approved work-based learning program for the fall immediately following high school graduation, apply for all other available state and federal grants and scholarships and meet ongoing requirements.  Must file the FAFSA!

Iowa National Guard Service Scholarship

Iowa Resident
Member of an Iowa Army or Air National Guard unit for each term the member receives benefits
Satisfactorily complete required Guard training
Maintain satisfactory performance of Guard duty
Pursue a certificate or undergraduate degree at an eligible Iowa college or university (students with BA degrees are not eligible to participate even if pursuing a second BA degree) and maintain satisfactory academic progress
Must file the FAFSA and the Iowa Financial Aid Application

Governor Terry E. Branstad Iowa State Fair Scholarship

Actively participate in the Iowa State Fair (past or present)
Be a graduating senior from an Iowa high school
Plan to enroll at an Iowa college or university
Selection committee criteria
Must file the FAFSA and the Iowa Financial Aid Application

Catherine McAuley Scholarship (Mount Mercy University)
The Catherine McAuley Scholarship provides free tuition to Iowa students whose family income is $50,000 or less annually.  These scholarships are renewable for up to four years and students are automatically considered upon admittance to Mounty Mercy.  To be eligible, students simply need to:

Be an Iowa resident and graduate from an Iowa high school
Be admitted as a new freshmen to Mount Mercy
Reside all four years on Mount Mercy's campus during the academic year
Participate in Mount Mercy's College Success Program during their first year on campus
File the FAFSA prior to July 1 (first year) and May 1 (subsequent years) that shows family income of $50,0000 or less and Pell Grant eligibility

PB & J Scholarship
The PB&J scholarship awards $500-$1000 to students who have experienced personal challenges that may not have allowed them to perform well academically (High GPA is not needed to qualify.) Examples of personal challenges are medical issues, peer issues, and family issues.

Eligibility requirements:

High school senior attending a 2-year or 4-year college in the U.S.
Applicants must submit an application, transcript, and 1 letter of recommendation required (2 preferred)

Charlie Burkart Scholarship (Iowa PGA Section Foundation)
The Iowa PGA Section annually awards a college scholarship in memory of Iowa Golf Hall of Famer, Charlie Burkart, PGA member for 49 years and head professional at the Elmcrest Country Club in Cedar Rapids for 42 years.  The purpose of this scholarship is to assist students in furthering their education.  At least one high school graduate will be the recipient of $1500 per year for four years. Scholarship winners are based on:

interest and activity in golf, the potential for future contributions to the game
leadership skills/community involvement
academic/professional ability and financial need.

Colfax-Mingo Scholarship Committee Offerings (Google forms sent to seniors in February)
Any student graduating is eligible for these scholarships. Filling out the application and attending the Phone-a-thon gets students an automatic scholarship.

After participating in the Phone-a-thon, students are eligible to fill out optional essay scholarship applications for the following:

Tobin-Coats
Kevin R. Bissell Memorial
M. Robert McCarey Memorial
Dreda Gweneth (Edwards) McGill Legacy
Ty Carlson Memorial
Dara Lee Shadley Price Memorial

Gerald L. Bauer Scholarship (Paper applications will be distributed to graduating students in February.)
~$100,000 of scholarship money given out each year to commemorate Mr. Bauer's love of education and the CM community.
Major scholarships will be awarded on a semester basis with a maximum of 8 semesters awarded. To remain eligible, recipients must remain enrolled full-time in an accredited Iowa-based institution and maintain a minimum 2.75 GPA on a 4.0 scale. (Undergraduate enrollment only)
Spirit of Chandy – Bank Iowa Scholarship
Applicants for the Bank Iowa Spirit of Chandy Scholarship must be high school seniors who plan to enroll as full-time undergraduates at an accredited four-year college or university or a two-year junior or community college in the fall following graduation. This scholarship program is available to both Bank Iowa customers and non-customers. Scholarship recipients will be selected on the basis of academics, character, leadership, honors/awards received and participation in school and community activities, namely involvement in those Chandy was passionate about: swimming, biking, running and flying.
Students are asked to complete an essay describing their personal strengths, educational and career goals as well as submit at least one letter of recommendation from a non-relative. Financial need is not considered for this particular scholarship.
Jasper County Arts Connection Scholarship (application emailed to seniors)
Jasper County Arts Connection offers a scholarship for the areas of visual arts, music or drama. Students must submit examples of their work according to application requirements.
First Friday Breakfast Club Scholarship 
Annually, the First Friday Breakfast Club (FFBC) awards scholarships to graduating Iowa high school seniors committed to reducing homophobia and increasing awareness and tolerance of lesbian, gay, bisexual, and transgender (LGBTQ+) issues in their schools and communities. Awards will be made in the amount of $3,000+ per student. Since 1997, the FFBC has awarded more than 132 scholarships totaling over $475,000. Applicants must be Iowa residents and plan to pursue college or other post-secondary education.