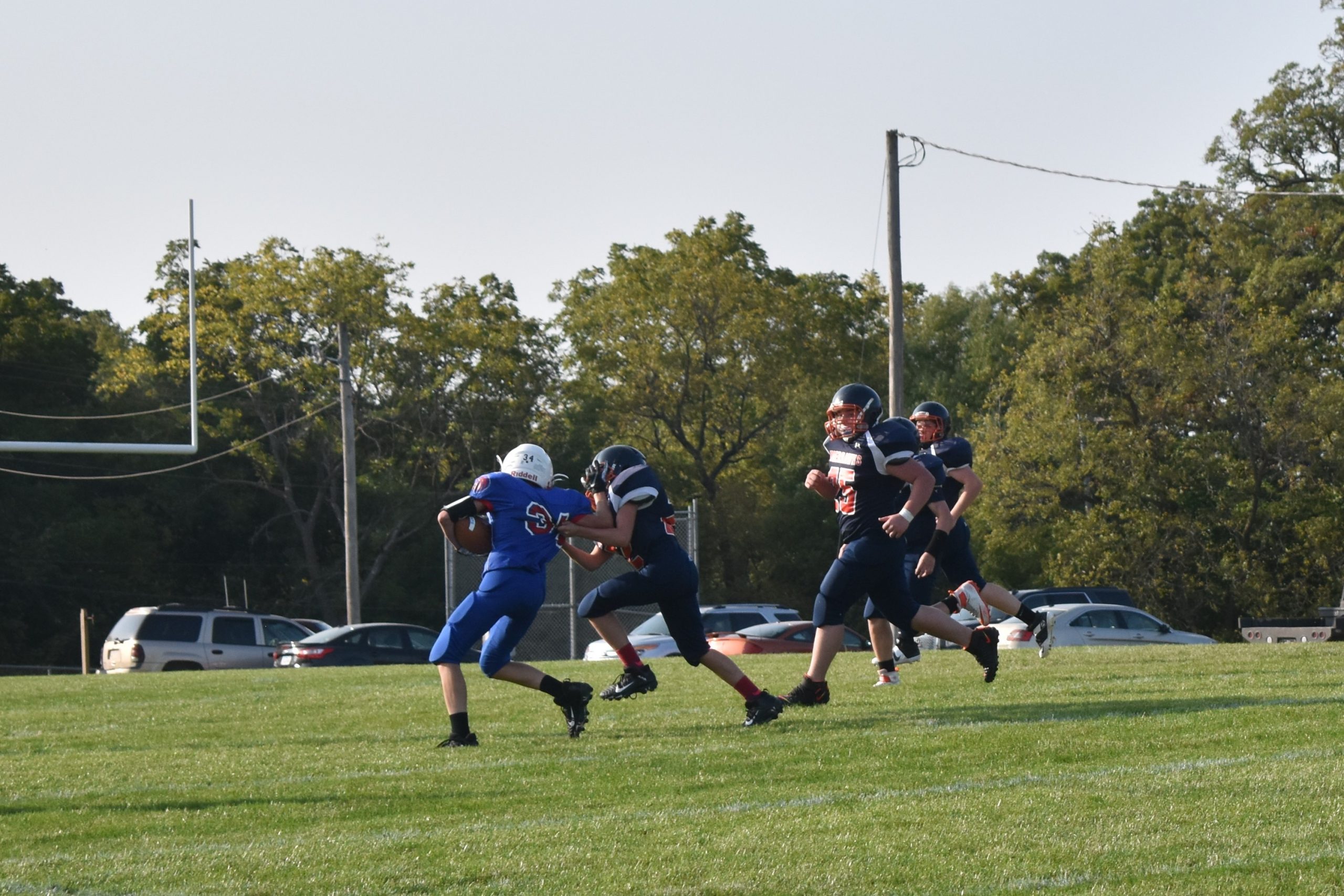 An Exciting Night for Junior High Fall Sports
Our fall sports teams are in full swing and Tuesday, September 22nd was an exciting night for our Junior High teams. Both football and volleyball were at home taking on BGM and Grandview Christian, respectively while the Cross Country team was on the road. 
The football team had a tough matchup against BGM but were able to overcome and go home with the W, defeating the BGM Bears 40-18. The Tigerhawks scored on their opening two drives and never looked back.  Shane Hostetter threw for two touchdowns and ran for two himself, Cooper Hoskins scored a touchdown and a two point conversion, and Harrison Rhone scored a touchdown and two point conversion.  Brock Nichol caught two passes and scored on both.  Defense was led by Xavier Woods with 2 sacks and Wyatt Thornton picked off 2 Bear passes.
Volleyball fought a good fight against GVC, an evenly matched team. Overall, the girls had a total of 31 aces. They also set the ball up for a "bump, set, spike" fourteen times. Players Trinity Smith, Audrey Thomas, Emma Cook, Jozelyn Richardson, and Grace Hunsberger all did very well on the serving end. Although the Tigerhawks did not come away with the win, they still gave it their all. Coach Joyce said, "Our improvement in ability and attitude from our last game was huge!" The girls are learning and improving everyday. 
Cross Country was competing in Eddyville on Tuesday night. Junior high girls kicked off the night and placed 6th as a team. The team was led by Bianca Lane, who placed 39th overall, Evalyn Anderson, who placed 40th overall, and Devan Chadwick, who placed 44th overall. Others competing included Shae Wilkins, Lily Hadsall, Mallory Sipma, and Hannah Moore. The boys followed, however they were unable to score as a team due to low numbers. Those competing still did very well with Owen Ament leading the way in 11th, Gage Byal in 13th, and Cason Fitch in 16th. "These runners continue to improve each week and are a great group of student-athletes that work hard and are enjoyable to coach!" says Coach Tomas.
Unfortunately the Cross Country team does not have any more meets at home this season but the junior high football and junior high volleyball teams will both be home again on October 12th starting at 4:30.  Go Tigerhawks!
article by Brennan Rhone
---
News Home