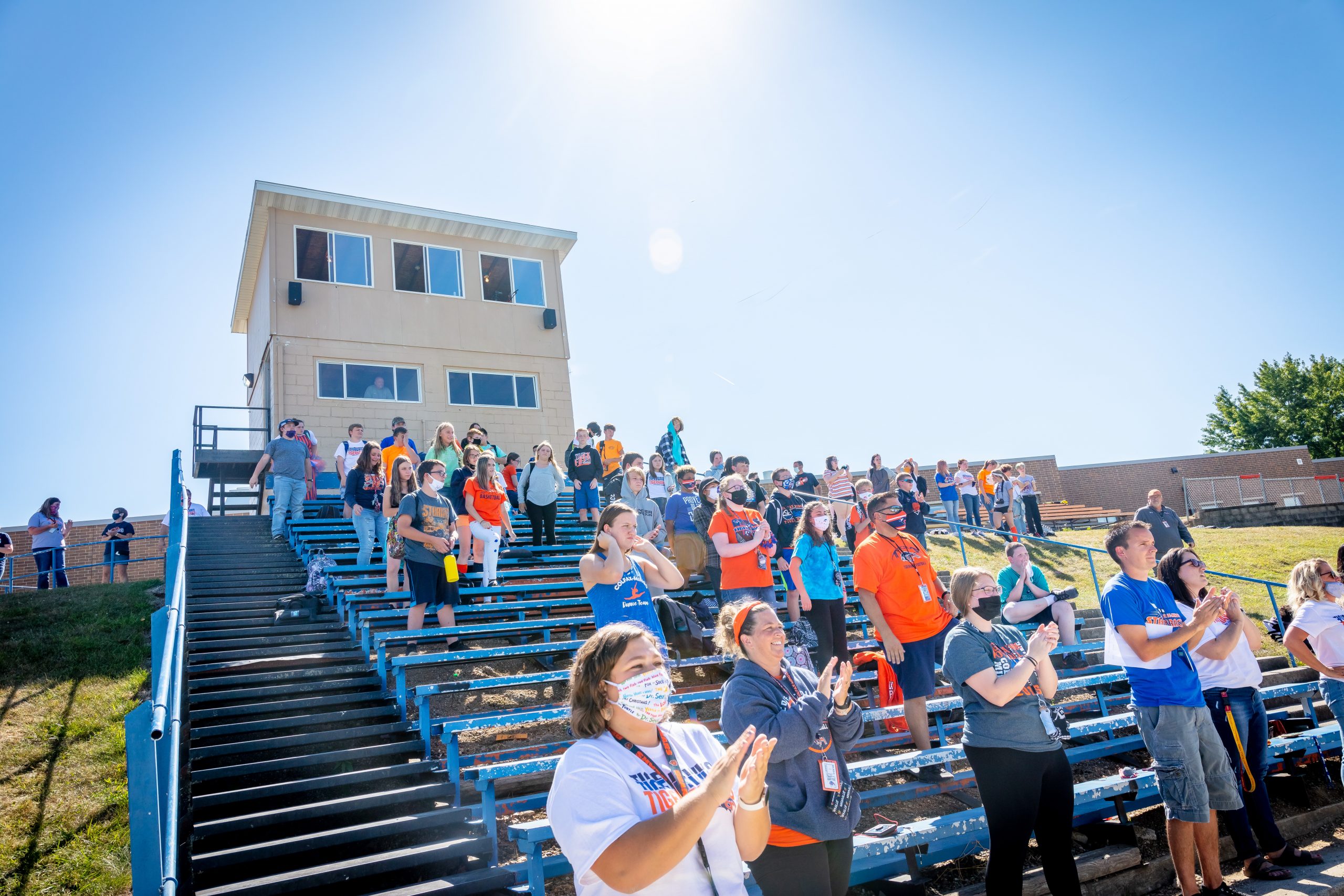 2020 Homecoming – Interviews & Photos
THE FIRST 2 WEEKS & HOMECOMING 2020
With the first two weeks of school in the books, and homecoming week coming to an end, I wanted to get some Tigerhawk perspectives. Here's what I got!
-Drew Otto
YOUR TAKE; THE FIRST 2 WEEKS OF SCHOOL…

'I'm really happy with how things have gone. Under the circumstances I don't think we could have asked for a better start then what we have right now. The kids have done everything we've asked them to do with very little grumbling. The teachers are doing a great job with their modeling. I'm really happy. '

'AMAZING! I think for the first two weeks, I was talking to both principles, we couldn't have asked for more; from the kids, the staff, from everybody. It's been great.'

'First two weeks of school have gone very well. The kids, from my standpoint, have done a good job. I think they are enjoying being back at school, whatever that looks like, it's been good for them.'

'It's a little weird, just because of all the new rules and stuff, but it's been pretty fun.'

'Well, it's different because of all the schedules and stuff. We obviously had to wear a mask, it's getting easier; it's not the same as it was last year.'

'The first week was kind of a lot, with like classes and everything, but this week has been a lot better.'  'classes are different because of the masks, otherwise I think everyone is trying to keep it kind of normal.'   "I'm on the dance team, we've starting that at 5:30AM, so that was rough, and late night practice too, and it's just like waking up again."

'You know, the kids have been great. This is new for everybody, for the students, the adults, the parents, and you can tell they are really hungry to be back in class. You can tell that they crave and need this time with their peers, their teachers, and coaches after school. They have been excited to be back, and we've been embraced it too.'

Mr. Barkalow turned the microphone on me, Drew Otto :)

Barkalow: 'So Mr. Otto… How's everything been at the elementary this week?'

Otto: 'It's actually been very exciting, the kids, aside from the masks, have been very normal. In fact, very energetic because they are able to be around their friends and socialize. The socialization piece is huge. I think the 5 months off has been difficult for them. This week in art class we actually tied social emotions into our art, and a lot of what I heard in the classes was; every 'green zone, yellow zone' was about being excited for school, and pumped up to be around their friends. The 'red zone' was Covid, having to deal with their siblings, and the 'blue zone' was having to be out of school for so long. To finally be back and have some normalcy to everything; the kids have loved it, and I've loved it.

Barkalow: 'How have you been able to handle the social distancing at the elementary level; how does that look in the elementary classroom?'

Otto: 'I think a person would be shocked to come in and see how well things have developed. I think Mr. Summy has done an awesome job leading us as teachers when we created those first expectation videos, we put up posters, we broadcasted that these are our expectations in this new situation. Everything is normal, we just have to always keep our masks on. Hand sanitizer in, hand sanitizer out. The kids are doing a fantastic job of staying apart from each other when they need to. I think letting them get the break outside, getting some fresh air, or step aside and take a break is what those kids needed. They've done awesome with it. Kindergarten, you know is kindergarten, and they have their little mats on the floor; but even then you'd think that younger age you'd have a lot of worry, but they are following directions pretty darn well. I think that says a lot about the teachers; expectations are in place, they're consistent about them. They kids are doing awesome.

'I think it has exceeded our expectations. Kids are awesome. Haven't had any problems with following expectations; we have a few reminders here and there with adults as well, I think everyone has been adapting to the changes. Most importantly I think everyone is excited, and love the opportunities that we are giving them from coming back. I think overall it's been awesome! I will say there is a 100% difference between my kids at SE Polk on the hybrid model vs here.'

'Well, I don't feel like I'm new to the Colfax community, I grew up in Prairie City. I know a lot of people, grew up with a lot of friends in Colfax, so that's made it an easier transition. Obviously, with the pandemic, it's been new for everybody. Not teaching last year at all, I feel a little overwhelmed stepping back into it, having to deal with virtual learning, doing IEP's, virtual IEP meetings make it kind of stressful, but it's getting easier. The kids have been great!'

Overall pretty good, really long, & tiring after being gone for 5 months. Trying to keep away from people as much as you can, like at lunches, you can sit by your friends like you normally do. You have to wear masks all the time, it gets hot, things are just crazy.
---
FROM YOUR PERSPECTIVE; HOW HAS HOMECOMING BEEN THE SAME & DIFFERENT IN 2020?

'Although it is not exactly what homecoming has been in the past, I think the kids have had some opportunities to experience homecoming, and not be too restricted.

'Also very good, I think the kids have done a great job. We've seen a lot of homecoming dress up, school pride, to have homecoming early I think it was good, we had a great crowd last night. It was good to see so many come out and support the kids'.

'Homecoming has been a lot different this year, and whatever is offered to them, to participate in homecoming, they are grasping on to it. So that's another reason we know why we know kids want to be back here.'

'Homecoming was awesome. TP-ing was fun!'

'Homecoming was still pretty fun! Not much has changed, like, structurally. Same events and things"

'Normally we have, like, dress up days; It's just kind of been crammed in the first two weeks of school. Coronation was on the football field instead of inside, and so that was kind of different, but I kind of liked it out there better!'

'You know what, it's been new for everybody, just like school has. Homecoming looks different in 2020, just like everything in our lives. The fact that we didn't have a parade, or we had to have the coronation outside, you know; those are the cards we've been dealt. We want to keep our kids safe, want to keep the community safe, and if that's what we have to do to still have some fun for our students, but in a safe manner, we're going to do it.

We've worked hard on keeping some normalcy; obviously, the biggest obstacle is safety. There's been a team of us that have worked for about 2 weeks to put some things together; dress up days, coronation, and a pep rally.

'A Lot of the traditions seem the same, I've taught in a couple other districts. What seems different… My kids go to PCM, and it seems like schools are rushing to try to get homecoming in before things change. We don't know what's going to happen tomorrow. I get it; they want to have these local celebrations, before someone steps in and says no. I think the kids are mostly the same. It seems like the spirit is still good, other than having to wear masks, and social distance, I think the kids are still excited we are still doing homecoming and making it work.'

Everybody is just trying to have fun with everything. They're trying to keep as much as normal as possible I think, and that's a good thing because I know kids are not going to want to be here if it's not.
---
---
News Home